D7620 Webinars since COVID-19
MEMBERSHIP TRAINING


Would You Like to Learn WHERE to Find Membership Leads?

How to TRACK, NURTURE and MANAGE Those Membership Leads?


Our District Membership Chair Jennifer Coppit will be delighted to provide you with the following schedule for your convenience, please click the date to obtain the online meeting link info:


See You Soon!

CLUB MEMBERSHIP PLANS TRAINING

Would You Like Your Club to Be a Vibrant and Healthy Club?
Our District Membership Chair Jennifer Coppit will be delighted to walk you through an outline that has been very successful and adopted by many clubs. For your convenience, Jennifer will be providing this Club Membership Plans training in the following days for your choice, please click any of the date to get an online meeting link info:
See You Soon!
June 26, 2020
District Governor Installation for Jimmie Gorski
Jimmie Gorski, DG 2020-2021
Date: Sunday, June 28, 2020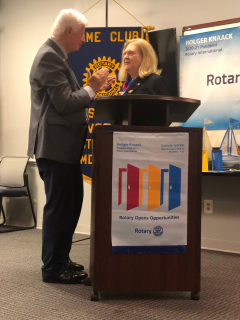 Rotary International Director Peter Kyle with DG Jimmie Gorski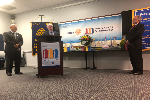 What a great installation ceremony for our new incoming District Governor 2020-2021 Jimmie Gorski! It was nicely done for such a very first and special virtual installation ceremony due to this Covid-19 pandemic.

Not only do we thank this planning team led by AG Sue Weber including Carolyn Richards from Annapolis Rotary Club, Sean McAlister, the incoming DGN and RLI Chair from Capitol Hill Rotary Club but also the Master of Ceremony by our PDG and District Rotary Foundation Chair Rich Glover, Jimmie was proudly pinned by our incoming Rotary International Director Peter Kyle from our own Capitol Hill Rotary Club with that privileged DG pin. What a precious moment!

Who said this pandemic is only a threat to our lives? It opens so many more opportunities to connect us all over the world together. It reflects this new Rotary year of theme perfectly. In this installation ceremony, we saw many Rotarians with their family connected to watch this virtual installation ceremony, to virtually toast to our incoming DG Jimmie, all the hearty welcome remarks and congratulations from our past District Governors, Club Presidents and other Individuals. Thank you for all of your dedication and support to our District!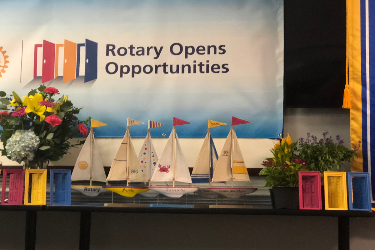 June 26 - 27, 2020
Virtual District Conference 2020 Goes Viral!
A very first and different kind of Virtual District Conference 2020 is finally kicked off on Friday, June 26 at 6:30pm EST; and successfully closed on Saturday, June 27 at 12:30pm. With the extended session of the election of our new District Counsel of Legislation, it finally ended at 1:15pm.

The highlights of Day 1 June 26's Virtual District Conference are:

-- A Stimulationg Opening Keynote: What Will Rotary Look Like in 2025 by Tom Thorfinnson, Chief Strategy Officer of RI
(See His Presentation)

-- An Amazing 4-Way Test Competition, the winners are:
1st place: Aislinn Murray - Severn High School;
sponsored by Lake Shore-Severna Park Rotary Club (video)
2nd place: Sai Badugu - Mt. Hebron High School (video)
3rd place: Rio Biran - Urbana High School (video)
4th place: Ben Ault - Rockbridge Academy (video)

-- A Wonderful Panel of Global Scholars:
In-Bound Global Scholar: Dr. Satoshi from Japan
Out-Bound Global Scholar: Ms. Aminata
Global Grants Scholarship Presentation

-- A Thoughtful Memorial Service - Celebration of Life for our passing Rotarians (watch it here)
Day 1 VIDEO - Rotary 7620 Virtual District Conference 2020 | Friday Session


The highlights of Day 2 June 27's Virtual District Conference are:

-- District Club Awards - Rotary Year 2019-2020 (watch here)

-- An Impressive Keynote Enterpreneur: The Intersection of Entrepreneurship by Seth Goldman, Honest Tea

-- People of Action: Virtual Services Projects for Your Club by Catonya Lester from Baltimore Sunset Rotary Club

-- A Little Fund with DG Citations: Barton Goldenberg's Acknowledgements and Awards (watch video)

-- Remarks from Incoming District Governor Jimmie Gorski

-- Closing Remarks: DG Barton Goldenberg

-- Special Session | Councel of Legislation Presentation & Vote (watch video)

Candidates:
PDG Andy Baum from Carroll Creek Rotary Club;
PDG Claude Morissette from Potomac Rotary Club.

We are very proud to announce that PDG Andy Baum was elected to be our D7620 COL Representative for the Year 2020-2023. And we are so fortunate to have PDG Claude Morissette as the Alternate Representative for such position.

This unprecedented Covid-19 theatened and changed our life. However, it also gave us the opportunities to connect the world even more and better. We are fearless, we are people of action. We got a record-high contribution, we also got a record-high registration for a virtual meeting, thank you for all of your great and strong support! Your participation made our very first Virtual District Conference even more special!


Day 2 VIDEO - Rotary 7620 Virtual District Conference 2020 | Saturday Session
Sat, May 16, 2020
Rotary believes in developing the next generation of leaders. Our programs help younger leaders build leadership skills, expand education, and learn the value of service by Speaker RYLA & Interact Chair Marilyn Cruz, Rotaract Chair Monique Toussaint &

Youth Exchange Program Acting Chair Ric Meyer.
Sat, April 11, 2020

The Impact of COVID-19 on Rotary Fundraising Events
~ by Ashley Waters, D7620 Public Image Chair
Sun, March 22, 2020
Creating Satellite Clubs: What's in It for Your Club
~ by Quentin Wodon, D7620 Membership Chair
Sun, March 15, 2020
Leads Management & Tracking

~ by Jennifer Coppit, D7620 Membership Co-Chair